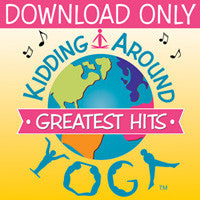 Yoga Greatest Hits For Kids | Kids Yoga Music | Downloadable
DOWNLOAD ONLY. Can't decide WHICH SONG to purchase? How about our bundle pack of greatest hits? 28 songs for $4! You can't go wrong. When you order, you will be emailed the link to download it. Make sure to check your email and spam folders. Titles include: 
Every Little Cell
Toe-Ga
Really Stinky Feet
Down By the Bay
Head Shoulders Yoga Pose Remix
Here Comes the Little Yogi

Jogging Thru the Jungle
La Cucaracha
Laughter Yoga
Sergeant Salutation
This Little Light of Mine
Yoga Makes Me Strong
Om Work
Yoga Nagila
The Yoga Slide
The Yogi Shake
A Yogi Went to Sea
A Yogi Went Yodeling
Yummy Yoga
If You're Happy & You Know It
Yoga Limbo
My Little Light
Skip Around the Room
Massage Train
May the Long Time Sun
Journey to the Secret Garden
Garden Dreams
Om Shanti
Disclaimer:
As part of KAY's continuing efforts to create inclusive, supportive content, we have stopped using the phrase "Secret Garden" and are working to replace all instances with "Peaceful Garden". This change reflects our commitment to providing trauma-informed yoga instruction. KAY is currently working to re-record our songs with this modification.